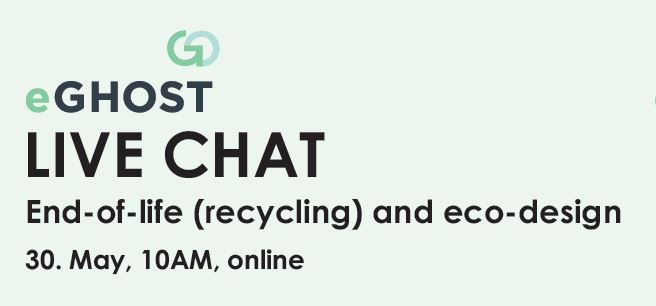 Join us! LIVE CHAT End-of-life (recycling) and eco-design
LIVE CHAT in implementing the ecodesign strategy for FCH technologies, all life cycle phases must be included in the ecodesign process. While the concepts for the production and use phases are already well known and partially implemented by industry, the end of life of FCH technologies (CRMs, rare earths) is still a relatively unexplored area that has not yet been established on an industrial scale.
In eGHOST LIVE CHAT we will address eco-design with a focus on the end-of-life phase and the implementation of the results from the EU-funded Best4Hy partnership
project. Interested? Join us and check the eGHOST progress!
Meeting point and access here
Let´s meet next Tuesday from 10 am  to 10.45 am (Central European Time)!